This month begins with a full Moon on August 1, 2023, welcoming us into a new month in a space of culmination and surrender, release, and ending. While in Aquarius, it has somewhat of a magical feel to it.
Aquarius Full Moon Times & Dates
Wellington:

Wednesday 2 August, 6.31am

Sydney:

Wednesday 2 August, 4.31am

Tokyo:

Wednesday 2 August, 3.31am

Singapore:

Wednesday 2 August, 2.31am

New Delhi:

Wednesday 2 August, 12.01am

Dubai:

Tuesday 1 August, 10.31pm

Moscow/Istanbul:

Tuesday 1 August, 9.31pm

Paris/Berlin:

Tuesday 1 August, 8.31pm

London:

Tuesday 1 August, 7.31pm

New York:

Tuesday 1 August, 2.31pm

Los Angeles:

Tuesday 1 August, 11.31am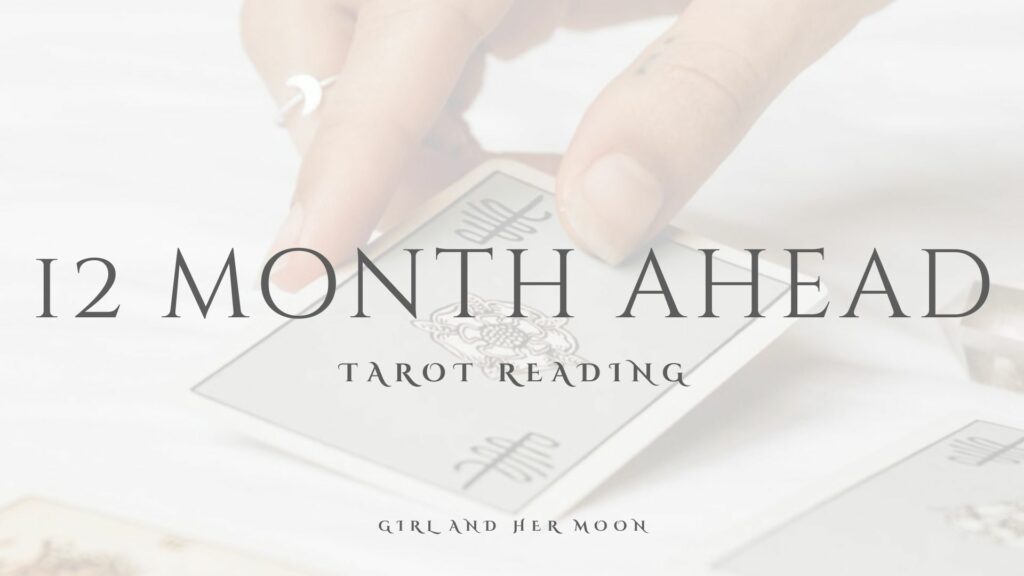 Of each phase of the Moon, it is the Full Moon that most often stops us in our tracks. The way she illuminates herself on full display. The way none of her is hidden. The way she lights up the world around her, acting as a celestial torch.
The Moon in astrology has a beautiful connection to the body, to memory, to our inner worlds and our emotions, and while she is full in the sky, what was not previously seen within us comes to the surface to be illuminated, too. Aspects of us placed on display that previously remained hidden.
Aquarius, a future-oriented, objective, wisdom-sharing air-sign, lives in the mental realms.
It offers perspective.
It invites us to stand back and observe with an essence of neutrality while we simultaneously move through the emotional waters that the Moon so beautifully represents. Aquarius purifies our thinking processes and clarifies our sentiments. Paired with the Moon that takes us into the subconscious of our mind and body, we have an opportunity to read the currents of the worlds that live within us with clear perception, with space, and objectivity.
This zodiac lives outside of structures that come and go and the collective consensus of current time, and as Aquarius shines through the full Moon, it reminds us that our emotional worlds also live outside of those structures and consensus. Our emotional worlds have their own rules. They have their own needs. They have their own desires and their own requirements for nourishment. And it is only through bringing to the surface those worlds that live within us that we can bring those needs into our awareness to then tend to them.
The Full Moon reminds us that it is through awareness that we can bring acceptance. Awareness of self. Awareness of all of self. Why does the Moon invoke these previously hidden parts of ourselves into her spotlight? So that we may bring them into our awareness, so that we may hold them and bring love to them, so that we may accept them as a part of who we are. And it is through this acceptance that we can allow for the shift that is waiting to take place within us to do so, as the Moon mirrors in our sky changing shape over the coming days.
Perhaps the psychologist Carl Jung was speaking to this with his often quoted words "The curious paradox is that when I accept myself just as I am, then I change".
Allow yourself to both experience from within the body (Moon) and observe with spaciousness from the mind (Aquarius). Beautiful insight is available here.
Known as the Water Bearer, the waters that Aquarius pours forth to humanity are those of wisdom, insight, and creative intelligence from beyond. A channel in this way and a seer of the zodiac, the libations it offers are a source of healing, clearing, and renewing. And this is the essence, the energy, the expression of the Moon while she shines in her fullness. These are the alive and felt frequencies within the Moonlight as it touches our skin, or within the waters invoked from deep within us: the wisdom, insight and energy that is needed both deep within our individual bodies and the body of humanity.
Your body is that channel tonight. Your eyes the seer. Your mind the access point to creative intelligence. What wisdom is pouring forth into you under this lunation? How are you allowing yourself to be supported from realms beyond the physical? And how can this support guide you in your journey forward?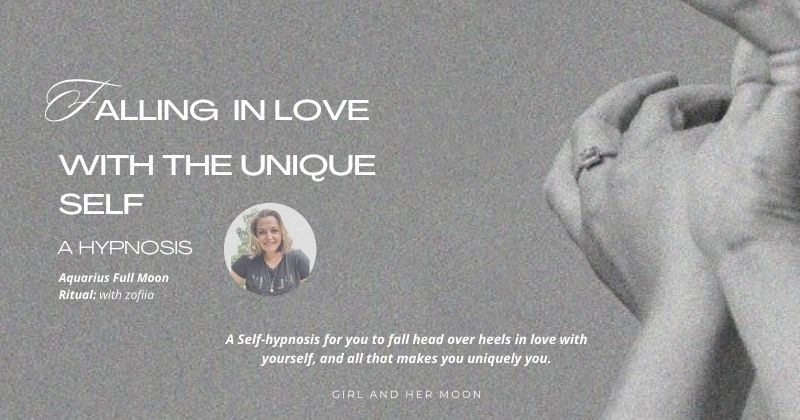 Aquarius Full Moon Ritual
Falling in Love with the Unique Self, A hypnosis – with Girl and Her Moon Reader and Hypnotherapist, Zofiia.
Find out more about this ritual here.
Join us for a Self-hypnosis to fall head over heels in love with yourself, and all that makes you uniquely you.
This session is all about celebrating your unique self, strengthening your intuition, deepening into your authenticity, and highlighting the gifts that are yours and only yours.
This ritual is exclusive to our Flow with the Moon Membership.
In the Flow with the Moon Membership we hold monthly ritual and workshops under the new and full moon, as well as astrology classes and studies each month – along with access to all past ritual, workshops, healings, and classes.
Join us here for August's Aquarius Full Moon Ritual, along with access to the Leo New Moon Ritual, Pisces Full Moon Workshop, Lions Gate Portal Workshop and Live Astrology Masterclass. See all upcoming events in the membership here.
By joining you will also receive instant access to over $10,000 of past workshops, classes and ritual.
Aquarius Full Moon Horoscopes
Watch your New Moon Tarot Horoscope by Kapualani here.
Happy Full Moon,
Jordane x