Libra New Moon Times & Dates
Wellington: Monday September 26 – 9.54 am
Sydney: Monday September 26 – 7.54 am
Tokyo: Monday September 26 – 6.54 am
Singapore: Monday September 26 – 5.54 am
New Delhi: Monday September 26 – 3.24 am
Dubai: Monday September 26 – 1.54 am
Moscow/Istanbul: Monday September 26 – 12.54 am
Paris/Berlin/Johannesburg: Sunday September 25 – 11.54 pm
London: Sunday September 25 – 10.54 pm
New York/Toronto: Sunday September 25 – 5.54 pm
Los Angeles: Sunday September 25 – 2.54 pm
Key themes:
Partnership, abundance, peace, pleasure, joy, harmony, beauty, communication, alignment, clearing, creative potential
Libra element:
Air/Cardinal
Ruling planet:
Venus
⊹
True to the essence of Libra, this is a beautiful new Moon. Filled with support, with opportunity, with alignment and with harmony. It is a gift from the cosmos, a gift from life, and a gift from our hearts.
It is an invitation to stand back with awe, take in our blessings, and create spaciousness for greater alignment and joy in our lives.
It is an invitation to sit in gratitude, to let it wash over our beings, and to dream into possibilities.
It is an invitation to communicate. Let words bring clarity, healing and intention. Whether this is communication with another, or communication with yourself.
🦋
There are a number of harmonious aspects in the cosmos under this lunation – different planets coming in to add greater support and direction.
Mercury and Venus brings our hearts and minds into alignment. Our feelings and thoughts within our relationships are clear, our feelings and thoughts within our desires, dreams, abundance, self-value, are clear. We can appreciate beauty. From both the experience of the body and the mind.
Pluto guides the beauty of this Moon deep within, into our psyches, in a way that is balanced and supportive. Allowing us to bring greater harmony into our psyche, to hold the space for transformation through love, to clear away what has felt heavy.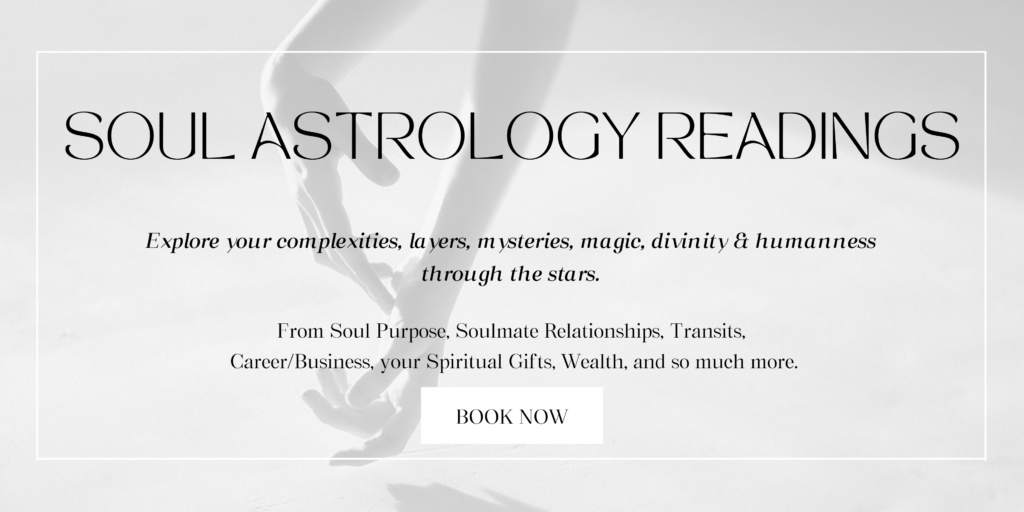 Jupiter opens the door of potential, of abundance, of opportunity and future dreaming opens. A beautiful time to lean into love, relationships, romantic abundance, a new partnership, finances, a new creative project. Take the space to step back and see where you desire your path to go long term.
Neptune brings an essence of imagination, creativity, spirituality, and inspiration into our lens.
✨
As Libra takes us into the realms of relationships, of partnership, coming together with another in any kind of collaboration, this new Moon is a beautiful opportunity to begin a new chapter with another. It's a beautiful time to open the door of connection and communication with another. And it is a beautiful time to tap into abundance and finances.
Bring spaciousness into your experience so that you may let in this lunation.
So that you may allow the support, harmony, potential, and opportunity into your heart. Write. Communicate. Dream. Set intentions. Connect with your loved ones. Connect with money. Allow Pluto to gently bring to the surface the transformation taking place within you, so that you may arrive in this new chapter of yourself.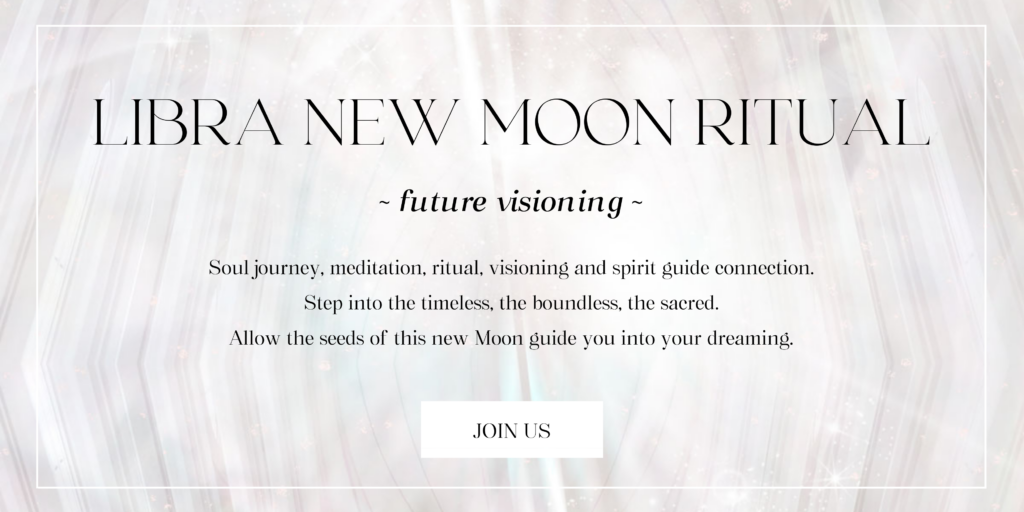 Libra New Moon Ritual: Future Visioning
Available inside of the Flow with the Moon Membership!
Soul journey, meditation, ritual, visioning and spirit guide connection. Step into the timeless, the boundless, the sacred. Allow the seeds of this new Moon guide you into your dreaming.
Join us in the membership for:
⊹ Astrology wisdom, teaching & sharing
⊹ Live Full Moon Circles
⊹ Monthly Energy Rituals & Meditations
⊹ Tarot & Astrology Readings
⊹ Inner exploration
⊹ Safe and loving community to share and connect
Join us from $33.33 🌱
♡ If you are already a member – sign in here find your ritual in the September Guide.
Libra New Moon Astrology & Tarot Readings
⊹
New Moon 1:1 Tarot Reading
This beautiful reading is here for you to take full advantage of the Moons energy and influence on your life. It is a personalised, unique, and in depth experience of engagement with the Lunar energies, a journey together through the fields of your energy, through the depth of your Soul, and through the paths of communication that the Moon is interacting with you upon.
With this reading we will be accessing your souls intuitive knowing/your higher self and translating it into clear and tangible guidance; allowing you to manifest and release in tune with the powerful cosmic Moon energies.
Limited spaces. Book yours here.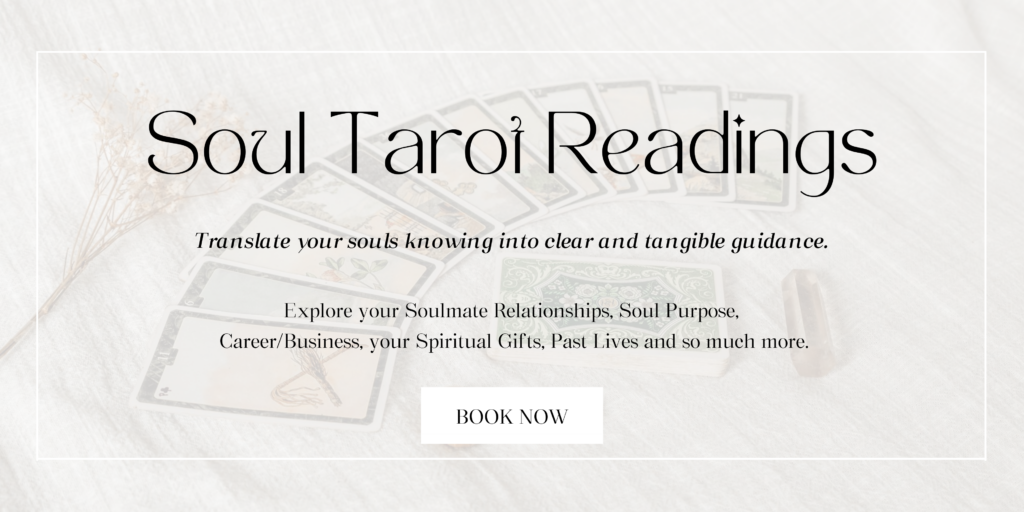 ⊹
12 Month Ahead 1:1 Astrology Reading
This beautiful astrology reading explores the upcoming terrain/astrological transits of your year ahead. Witnessing the invitations, the cosmic guidance, and your Souls unique plan for the year ahead with the stars.
Limited spaces. Book yours here.
⊹
Yearly Flow with the Moon Membership
Stabilise your energy practice, shadow work exploration, ritual and self becoming over the next 12 months. Our membership is filled with an array of spiritual practices, live circles to commune and connect, astrology and tarot guidance, and self-exploration. It is the foundation to hold you while you come home to yourself, and deepen into this return over the next 12 months.
By joining for the year, you not only receive 12 months of membership content, but you also receive over $2,000 in bonus spiritual practices such as Tapping for Worth, Wealth & Abundance – Soul Embodiment Activation – Past Life hypnosis – Inner Child Healing – Breathwork Session – Embodiment Workshop – A journey into the Akashic Records and more.
Join us here.
♡ If you are already a member – sign in here for your discount on all readings.
Libra New Moon Horoscopes
All my love, and so much more
Jordane x