Sagittarius Full Moon Times & Dates
 Wellington: Tuesday June 14 – 11.51 pm
Sydney: Tuesday June 14 – 9.51 pm
Tokyo: Tuesday June 14 – 8.51 pm
Singapore: Tuesday June 14 – 7.51 pm
New Delhi: Tuesday June 14 – 5.21 pm
Dubai: Tuesday June 14 – 3.51 pm
Moscow/Istanbul: Tuesday June 14 – 2.51 pm
Paris/Berlin: Tuesday June 14 – 1.51 pm
London: Tuesday June 14 – 12.51 pm
New York/Toronto: Tuesday June 14 – 7.51 am
Los Angeles: Tuesday June 14 – 4.51 am
Key themes:
 Joy, adventure, wisdom, higher truth, knowing, freedom
Sagittarius element:
Fire/Mutable
Ruling planet:
Jupiter
What if we could return to the knowing that we deserve the deepest, widest, most fulfilling joy in our lives? In our every day?
That our lives are adventures. Too dear to be wasted doing or being anything short of the magic that we are.
What if joy could be as simple as dancing to our favourite song, or smiling at the Sun as it hits your skin?
What if it were about feeling free and alive in our skin? Or exploring all that this divine human experience has to offer?
What if the Earth held the deepest wisdom available, and our bodies the same. What if just looking up to the stars gave us answers, guidance and the deepest wisdom?
What if we could come to a place where we hold deep gratitude and reverence for being alive. Not in a way that denotes every other emotion and experience, but in a way that holds us, supports us, and nourishes while we move through every single experience of this life?
This Sagittarius Full Moon asks the most beautiful question of all; what makes you feel alive?
♡
We meet Sagittarius as we meet the wisdom above and beyond the knowing mind. We meet Sagittarius as we expand our perspective. As we say yes to higher truth. We meet Sagittarius as we remember this lifetime as an adventure. As we dive into Life and experience as our greatest teacher. As we pursue new horizons and let our gaze upon life grow and grow and grow beyond what we have ever known and let ourselves expand ourselves in the process.
The Full Moon meets Sagittarius on June 14, and here the cosmos will radiate the energy of this fiery, adventurous sign and ignite the same essence within our hearts.
As the Moon moves through zodiacs, we each get a beautiful opportunity and invitation to swim within and become one with the essence of that particular zodiac.
While in Sagittarius, there is a beautiful cosmic invitation from the Divine, from the Moon, from our hearts, to step back and radiate joy, to let gratitude grow and expand from our hearts within.
And to witness what desires to naturally fall away when we step back in such a way.
Full Moons meet us at a culmination, where all of the Moon is present, full, expressed. Then, she begins to wane.
Layers begin to fall. Naturally, one with the cyclic nature of Life.
In a way that can feel almost effortless, with our expanded awareness under this Full Moon, what do we witness is ready to joyfully fall away?
Allowing ourselves to step back and identify what truly brings us joy, what truly beings fulfilment, what feels freeing, real, heart-led and love-filled often allows us to see anything present in our lives that may not hold that same value, or truth, or heart. It allows us to question why are are holding onto them. It allows us to hold them up next to the joyful people, experiences, and goals in our lives and see if they meet their mark.
Sagittarius has a connection to the higher wisdom of the cosmos. It allows us to zoom out, to see a bigger picture, and see our greater and wider journey.
It allows us to disconnect from heaviness, disconnect from intensity of being inside of, allowing us to experience from a bigger perspective.
If we were to witness ourselves as one with this Universe and beyond, it opens the perspective that perhaps we do have access to greater wisdom than we realise. Perhaps we can open ourselves as explorers of wisdom, explorers of perspectives, teachings, knowledge, all through our own connection to the Divine. Could you be both the question and the answer? The explorer and the sacred site? The search and the wisdom?
Ruled by Jupiter, Sagittarius has an essence of joy, luck, expansion and freedom. Fiery in nature, it speaks to inspiration, excitement, desire and passion.
While this Full Moon is swimming in the fire of Sagittarius, the signs ruler, Jupiter sits in another fire sign, Aries, along with its ruler, Mars. This is a powerful energy that speaks to taking initiative, trusting in divine opportunities, and stepping into abundance and expansion in the direction that our hearts are leading us into. Let yourself take the steps that feel exciting. Let fire and passion be felt in your body that you cannot help but take the inspired action.
This is a Full Moon that reminds us to trust ourselves, to trust Life, to remember joy, adventure and passion, and to tap into higher wisdom and feel into freedom.
Sagittarius Full Moon Ritual – Live Full Moon Circle
Live Full Moon Circle: 13 June
Join us for:
⊹ Astrology Teachings and Wisdom
⊹ Intuitive Lunar Eclipse Explorations
⊹ Meditations and Energy Rituals
⊹ Movement, breath, and journalling
⊹ Guidance to tune into your own connection with these cosmic energies
⊹ Safe and loving space to share and connect
Available for all Flow with the Moon Members, join us here.🖤
♡ If you are already a member – sign in here.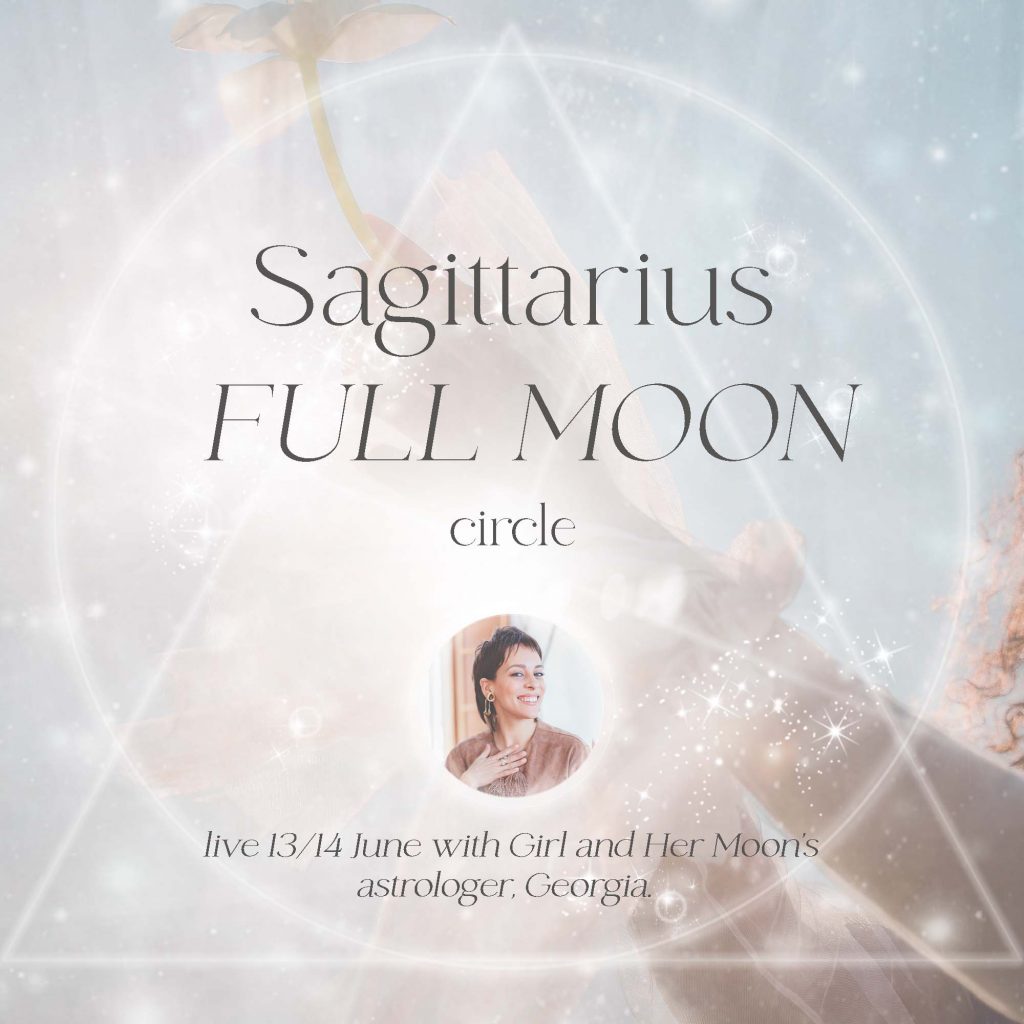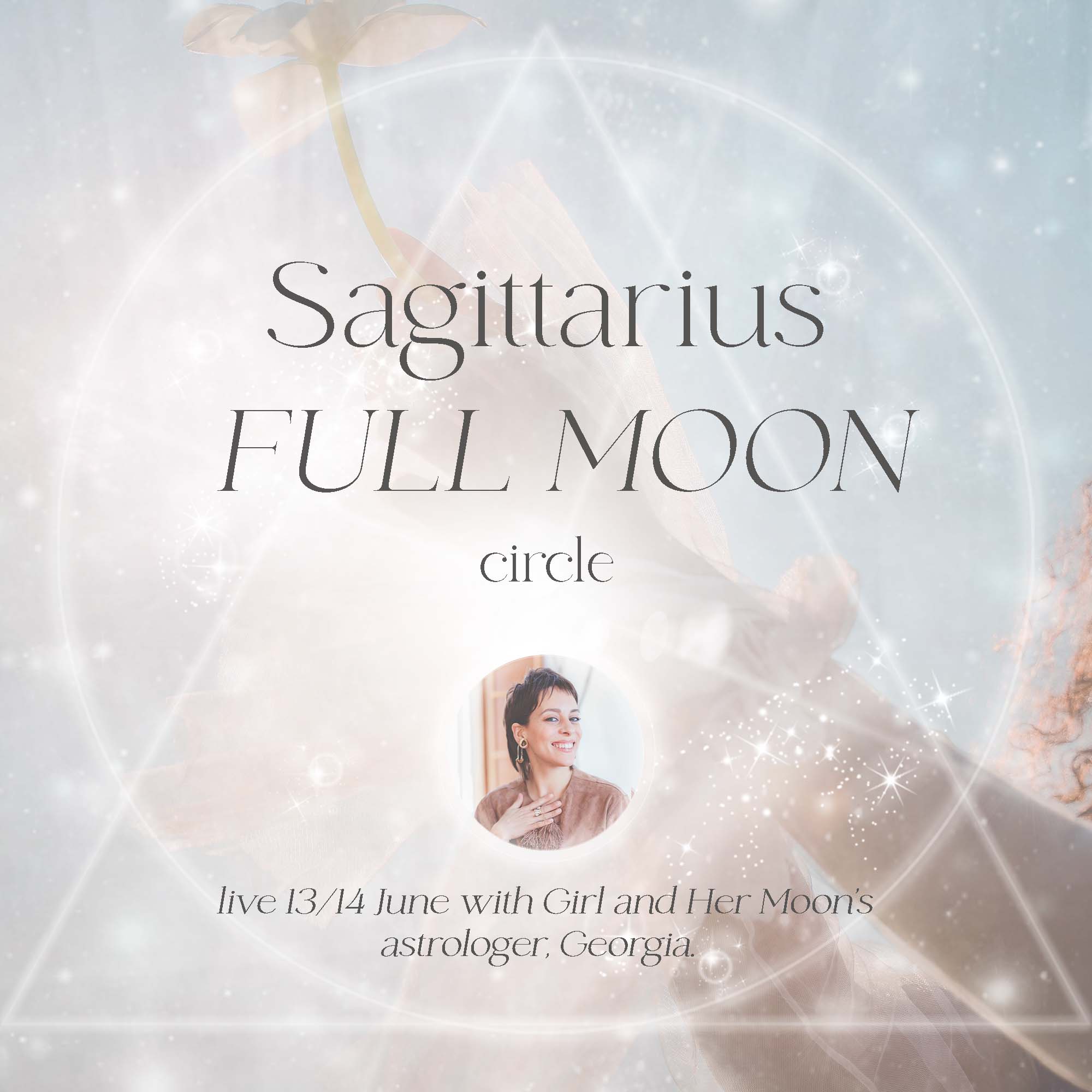 ⊹ Horoscopes ⊹
All my love, and so much more
Jordane x