Our last New Moon of the Zodiac Cycle! A sweet, creative, mystical, fruitful, and highly spiritual New Moon!
TIMES & DATES:
Sydney: Saturday March 13 – 9.21 pm
Hong Kong: Saturday March 13 – 6.21 pm
Moscow/Istanbul: Saturday March 13 – 1.21 pm
Paris/Berlin: Saturday March 13 – 11.21 am
London: Saturday March 13 – 10.21 am
New York: Saturday March 13 – 5.21 am
Los Angeles: Saturday March 13 – 2.21 am
This New Moon brings an abundant flow into our energy bodies.
It is tapping into our higher mind, our higher selves, the part of ourselves that are one with the Divine and eternal in nature.
Pisces, being the last of the Zodiacs, is the bridge-way between the spiritual and the physical, and under this New Moon we are being guided even higher into the spiritual, ascending into new realms and raising the collective frequency as we do so.
This New Moon is opening our eyes to the many realms, dimensions, stars, universes, that we are innately connected to. It is reminding us that while we are here on the Earth in a physical nature, there is much more to our existence, and we are also in many other 'places'. We are energetic beings, infinite in nature, able to access, create with, and play with dimensions and energies beyond what our minds are aware of.
With both Venus and Neptune collaborating with the energy of this New Moon, it creates an air of creativity, romance, luck, and dreams!
Reminding us of the magic in dreaming, of closing our eyes and letting our Souls take us into the realms of infinite possibilities, of tapping in the child like vision of seeing the world as our playground, of stretching what we have deemed 'realistic' for ourselves.
It asks us to soften under this gorgeous Pisces energy and envision wherever our heart desires to take us in this lifetime. Doing so will open many doors of possibility, it will realign us with our Souls greatest plans, purpose, and desires for this lifetime, and it will reawaken our passion for life.
Having the energy of both Venus and Neptune this opens a beautiful time to begin or dive deeper into any creative pursuits, finding the energy may flow through you with much ease – there is creativity flowing in and all around you in abundance.
With this creativity also comes a beautiful, magic like, manifestation booster.
Whether you connect with Universal Energy, God, Angels, Light Beings (and/or many more), have the intention to tap into the energy and connect deeper than ever, and under this New Moon, you may just find doors opening wide open with clear communication, guidance, healing, and energetic upgrades.
Pisces New Moon Ritual
A Journey to Atlantis
An exciting collaboration inside of our Flow with the Moon Membership!
Under this magical New Moon we are tapping into the energy of the Atlanteans with a highly charged channelled spirit reading, and then journeying into the realm of Atlantis, with Spiritual Empowerment Mentor Missy Mitchell.
Deeply aligned with the mystical energy of this Pisces New Moon, there are many messages from light beings that were ready to be heard at this time. Messages that, if this is calling your name, were spoken for you to hear. Paired with light language and a beautiful soul journey, simply being in the energy of this work is deeply healing and awakening, unlocking ancient wisdom that is unique to your Souls lineage.
By joining the Flow with the Moon Membership this month you also get access to the upcoming Libra Full Moon Ritual – Goddess Circle – the collective March Tarot Reading, Astrological New Year/Equinox soul prompts (** and secret bonus!), and much more!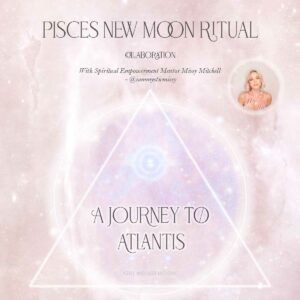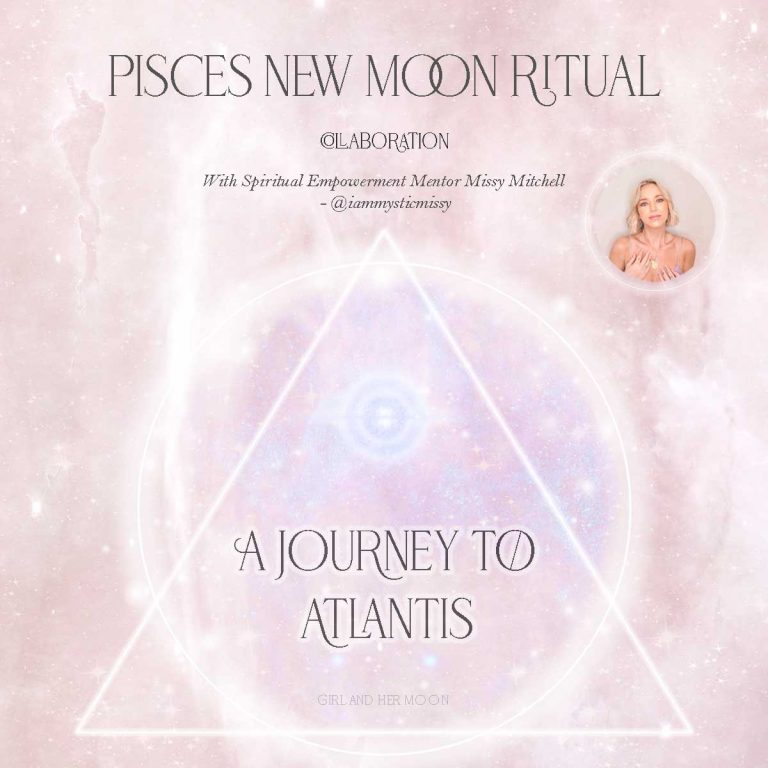 If you are already a member – sign in to your dashboard here!
For your zodiac horoscope, be sure to check our Instagram the day of the New Moon! Dilosh has created a beautiful Tarot Reading for the zodiacs! x
All the love, always, Jordane x