Eclipses serve as celestial checkpoints, turning points, a divine re-alignment of our Souls destiny.
TIMES & DATES:
Wellington: Wednesday May 26 – 11.13 pm
Sydney: Wednesday May 26 – 9.13 pm
New Delhi: Wednesday May 26 – 4.43 pm
Dubai: Wednesday May 26 – 3.13 pm
Moscow/Istanbul: Wednesday May 26 – 2.13 pm
Paris/Berlin: Wednesday May 26 – 1.13 pm
London: Wednesday May 26 – 12.13 pm
New York/Ottawa: Wednesday May 26 – 7.13 am
Los Angeles: Wednesday May 26 – 4.13 am
The release and illumination that is associated with each Full Moon is now infused with the energy of an eclipse, of destiny, and Soul's purpose and intention for this lifetime.
This Sagittarius Lunar Eclipse is a powerful point of realignment of our beliefs, faith, and perspectives. Sagittarius is the seeker of the zodiac, our freedom lovers that are always looking to expand – and that is exactly what this Lunar Eclipse is bringing us, the potential to expand.
But not before re-alignment takes place, not before new and clear perspectives are noticed, not before we let go of what is and was never really us.
As the sign of travel, exploration and adventure, this gorgeous and powerful Full Moon is speaking to our Souls journey and unique path this lifetime, showing us where we may have drifted off course.
This particular Lunar Eclipse is also connected to the lunations of June 5 and December 14, 2020. Look back at these dates and the energy in your life at the time – were there themes coming up that were guiding you into change, evolution, growth, transformation? Are there themes or ideas that are coming up again under this Eclipse?
Sagittarius has a beautiful ability to zoom out and out and out and see the bigger, larger, more expansive view, and that is the point of view that this Eclipse is coming from. Anything that happens, anything that is illuminated or realised under this Full Moon is directly connected to and aligned with that greater perspective, that greater view of all of Life. The view of the Divine, the view of our Soul, where we are reminded that everything is happening for us, for our growth, for our deepest inner fulfilment.
With such a deep emphasis on our beliefs, our faith, our connection, and our inner journey, Sagittarius is bringing to light any and all beliefs that are not really us, that are not completely aligned with our true selves. Any beliefs that are misaligned with the embodiment of our Souls truest essence in this lifetime. The beliefs, the expectations, the perspectives, the models of how the world 'works' that were created and passed down to us – sometimes they aren't our truth. Sometimes they aren't aligned with our unique path, purpose, desires. Sometimes we need a reminder that our truth of Life can be found within, and through our own connection with existence.
It is no accident that we, each of us, uniquely, are here in this lifetime at this specific time, with our own specific identity and talents, with our unique desires growing in our hearts. Life is divinely guided and structured beyond ways that I believe could ever fully mentally comprehend.
This Eclipse is an extra boost of energy from the cosmos to re-align us with our path, our purpose, our Souls plan and intentions.
The experience of an eclipse will always be different for each of us, each time. Big changes can sometimes be difficult, they can be uncomfortable, confusing, overwhelming. Big changes can be exhilarating, exciting, fulfilling. So just know, however you are feeling through this eclipse is okay. You are allowed to feel scared; you are allowed to feel like you are bursting with positivity, you are allowed to feel absolutely anything your heart guides you into feeling.
Filled with emotion, deep inner transformation, and often outer life changes, the greatest thing we can do during this time is lean into trust. Trust that whatever comes your way is for your highest good, and the highest good of those around you. Trust that you will only ever be brought what you can handle. Trust that you know your way through any obstacles. Trust in this beautiful unfolding.
If it feels like doors are slamming shut, know that new doors are opening even quicker. If you feel unstable amongst sudden shifts, know that this is life bringing you home, and once you get there, once the clouds pass, oh it is beautiful.
Next month the cosmos guides us into a beautiful Solar Eclipse. Where this Lunation is whispering to us where to let go and shift – the Solar Eclipse will guide us into a new beginning, into clarity, and into our highest potential.
Sagittarius Lunar Eclipse Ritual
Soul Remembrance
A guided meditation, Soul journey, energy upgrade, and intuitive writing ritual – Soul Remembrance.
Because you are here for more. You are here for magic. You are here for deep inner fulfilment.
This pre-recorded journey is created for the pivotal time in your Life where your Soul is calling out for more, calling out for a re-alignment of your Life and a release of all you are ready to leave behind.
It is created through the asking of your Soul for more. For more purpose, fulfilment, expression, embodiment.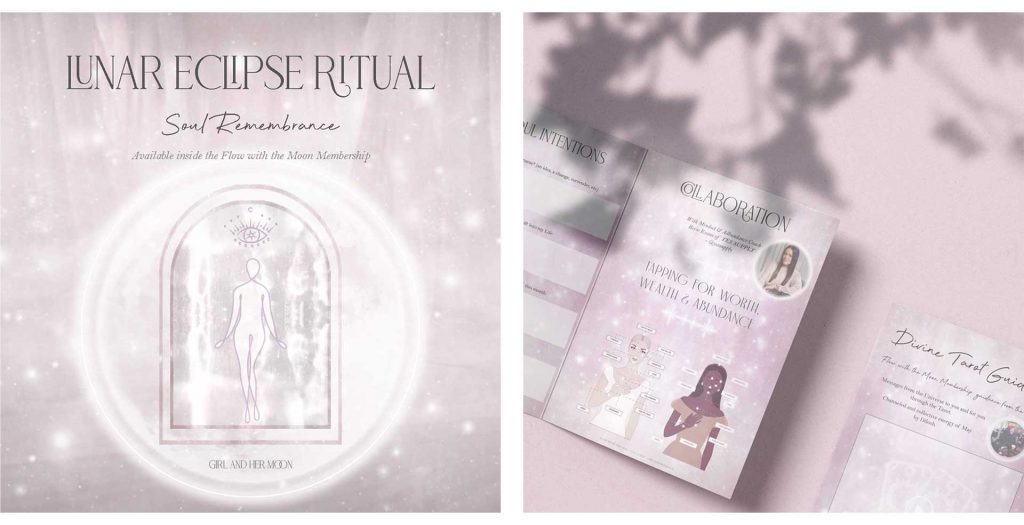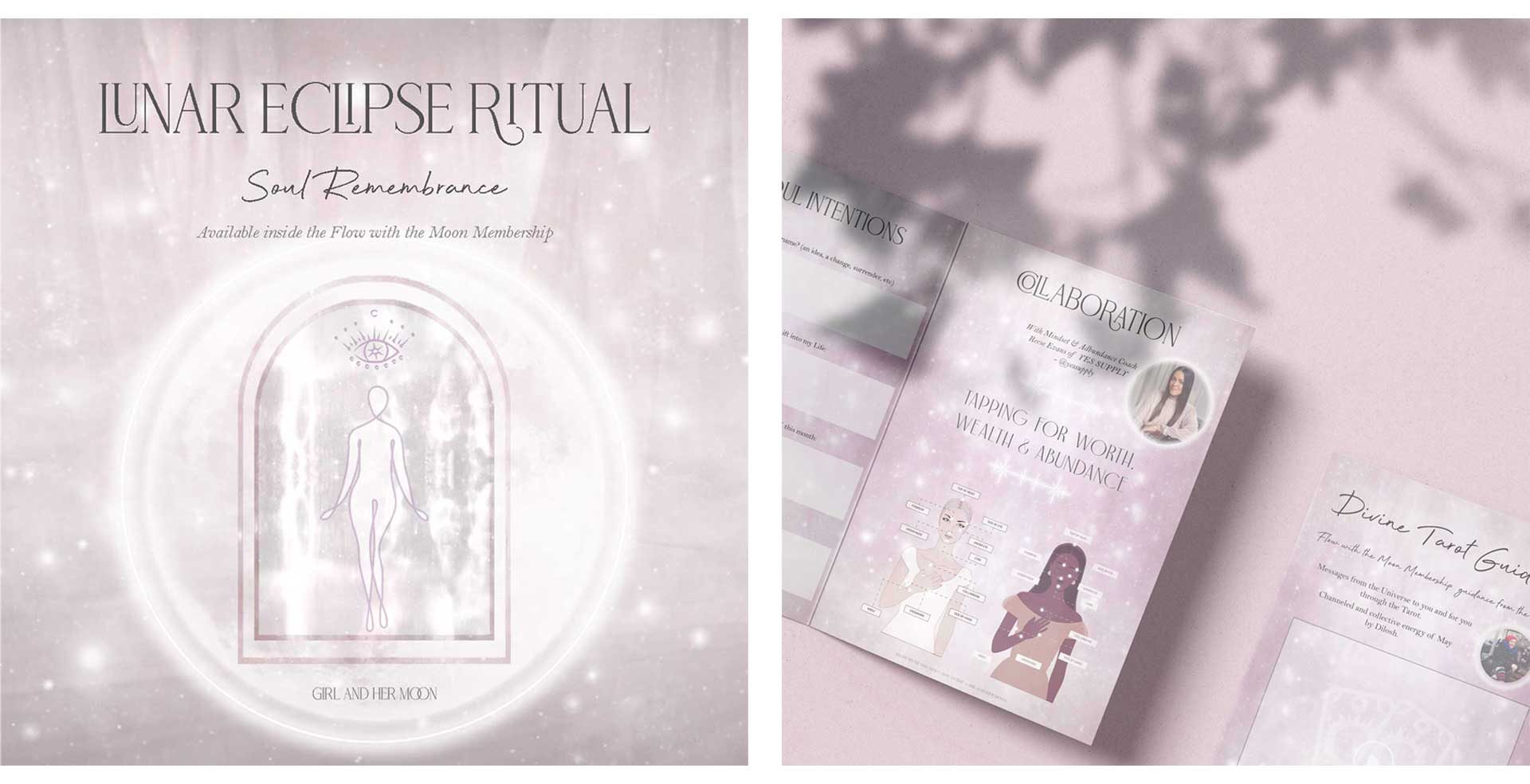 Journeying deep into the heart, into the cosmos, and into your inner sacred temple, this soul work connects you to your Soul Council and your individual Soul to remind you of your unique essence, your unique path for this lifetime, and renew your sense of belonging, inner trust, and self-confidence.
With four additional pages of writing prompts designed to access all of the wisdom, answers and guidance your Soul is waiting to share with you.
Exclusive to our Flow with the Moon Membership, by joining under this lunation you will receive instant access to Soul Remembrance Ritual, and also intention work, a monthly tarot reading,  a bonus collaboration with Reese Evans of Yes Supply – Tapping for Worth, Wealth & Abundance (available only in May), and more valuing at over $400.
If you are already a member – sign in to your dashboard here.
For your zodiac horoscope, be sure to check our Instagram the day of the Full Moon – Kapualani has created Tarot Readings for the zodiacs! x
All the love, always, Jordane x